Lobster Bake FunTanTattoo® - 2 Pack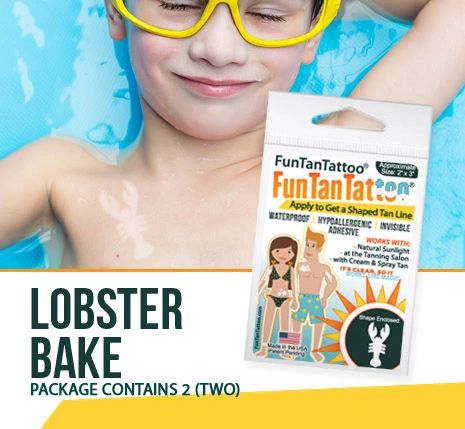 Lobster Bake FunTanTattoo® - 2 Pack
While the lobsters are cooking, bake yourself in the hot summer sun with our Lobster Bake tanning sticker.
Comes in a 2 pack!
Works with all methods of tanning.
Other tanning stickers are out there, they fall off after only a few minutes, they are just made of paper or the vinyl you find in a sign shop, only work in a tanning salon and the adhesive isn't safe on skin…
Product Specifications:
Package contains 2 Lobster Bake FunTanTattoo's®

Water and sweat resistant!

Hypoallergenic!
Works with spray tan, cream tan, airbrush tan as well as tanning beds and natural sunlight.

Works with a combination of science and magic!
Invisible on skin

– All you will see are results!

Spending the weekend at the beach? Stays on for up to 48 hours.

Dimensions: Shapes take up an approximate 2"x 3" area or smaller.

For best results, follow the label directions.
Call us if you have questions: 1-844-FUNTAN2 (386-8262), Monday - Friday 9am-6pm EST.